COPWATCH.com
Jack-booted police stormtroopers stomp
on civilians... and their constitutional rights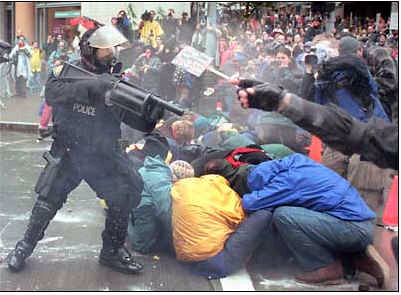 Photo Credit: Paul Joseph Brown/Seattle Post-Intelligencer
LAWSUIT UPDATE:

Yet another WTO lawsuit, involving demonstrators who were gassed and attacked by police during the demonstrations, has been partially settled.

Seven plaintiffs who were party to this suit settled for $1500 apiece. These plaintiffs included four women, (who did not participate in any protests), who alleged that they were merely shopping in the downtown area when they were assaulted by police with chemical gasses. Three other plaintiffs said they too were gassed.

The remaining plaintiff in this lawsuit is a 51-year-old woman named "Life has Meaning", who still has not settled. Life Has Meaning alleges that she was partially blinded by a rubber bullet fired by police on December 1, 1999. As a result of being struck with that projectile, she has suffered severe and permanent loss of vision.

Life has Meaning also alleges that a police officer beat her leg with a baton the previous day, in the absence of any justification whatsoever. Video of Police dragging off Life Has Meaning after beating her in leg. Video: Real Player required - Copyright 2001 by Copwatch.com

According to the complaint, which was filed in Federal District Court, a squadron of police officers utilized chemical weapons, pepper spray, plastic bullets, and rubber bullets to attack peaceful demonstrators near Third and Pike, an area which was outside the City's so-called "no protest zone".

All of the plaintiffs alleged that the City's indiscriminate and unnecessary use of dangerous weapons,(including chemical weapons, pepper spray, plastic and/or rubber bullets) resulted in a denial of their Constitutional rights.

These plaintiffs are being assisted in their lawsuit by the Seattle Street Speech Coalition, (SSSC), the same group that filed a class-action lawsuit last spring regarding the WTO demonstrations. $2,500.00 apiece was received by the four demonstrators named in that suit.


OTHER WTO-RELATED LAWSUITS:

*ACLU sues City of Seattle over WTO conduct.

*Three ACLU plaintiffs settle for $5000 apiece.

*Class Action suit over arrestees

*Two women settle for $100,000 after being pepper sprayed.

*Man settles for $30,000 after his arm was broken while in custody

*Three more WTO cases settle for $97,000

*News Photographer paid $25,000 for being pepper sprayed

*ACLU sues Police over WTO memo





PHOTO AND VIDEO ESSAY:
Anatomy of a Police Riot: A Critical Analysis of Police Misconduct at the Seattle WTO demonstrations




VIDEO OF A POLICE RIOT:
One of the stranger episodes to occur during the Seattle WTO was when over 100 police cars circled downtown Seattle with their lights and sirens blaring. Since there was clearly no immediate emergency, the only apparent purpose for this was to terrorize and intimidate the civilian population. This is what a police riot looks like.




DISTURBING NEWS REPORTS:














Video: Real Player required





"The figures indicate that rubber bullets are lethal and should be permitted only in life-threatening situations. 'Rubber bullets' should not be used to disperse demonstrations."


"Britain does not deploy these projectiles in England, Scotland, or Wales because of the danger of serious injury and death. However, this does not prevent them from using them against the people of Northern Ireland. *** ... causing permanent blindness, skull fractures, brain damage, organ damage, disfigurement, and death."

Video: Real Player required

Video: Real Player required


"In police academy textbooks for years to come, Example A of how to botch the job of crowd control will probably be Seattle 1999. *** Many Seattle residents were angry at the destruction and the lack of police response. 'They trashed our city, and the police didn't do anything,' said Claire Williams, an insurance adjuster. 'I've been reading for weeks and months in the papers about how this was going to happen. So why did they allow it?'" PLUS: Confirmation of hypocritical, pathetic nature of local TV: "Two local TV stations, KING (NBC, Channel 5) and KOMO (ABC, Channel 4), had announced that they would not cover what KOMO called ``irresponsible or illegal activities of disruptive groups.'' Such "good intentions" were quickly forgotten, though the newscasters injected as much bias and cant as possible



"...the crackdown on demonstrators was pushed hardest by the US Justice Department based on the concerns of undercover units in the streets..."
Was vandalism catalyzed by government operatives to provide excuse for mass arrests?






Seattle P-I, 2-29-2000


The Electronic Telegraph, 9-8-96


40 GRAMS OF LEAD PELLETS CAN BE DEADLY
"While police defended their actions Monday, some who were at the riot scene say officers overreacted when they fired the rubber bullets and beanbag rounds -- 40 grams of leadshot sewn into fabric bags the size of tea bags -- into the crowd. Jason Leahy, 18, of Naugatuck, said police shot him on the side of his abdomen with a rubber bullet as he walked by a group of rock-throwing concertgoers on his way into the Meadows, sometime after 8 p.m. Sunday. When he complained to police inside the theater, they accused him of throwing bottles, then they arrested him, took him outside and beat him, L said. *** ...the officer punched him twice in the face, then kneed him in the groin, L said Monday morning. The skin around his eye was puffy and red, and he had a small cut inside his mouth. More dramatic was the large red and purple bruise on his abdomen, just above the belt, where he says the rubber bullet struck him. The bruise had a well-defined circle, an inch-and-a-quarter in diameter, at its center. It was surrounded by another circle, 5 inches across."




If you need Real Player to play videos, click below to download